40 NICKY ROMERO KICK PRESETS
Create your own Nicky Romero style kicks by making use of 32 sampled clicks provided direct from his kick drum sample library, ensuring you get an instant Nicky Romero sound to your kick drum.
OVER 30 NICKY ROMERO CLICK SAMPLES
The NICKY ROMERO Artist Edition of KICK includes over 40 EXCLUSIVE KICK Presets created by Nicky himself from the Protocol Recordings Studio.
INCLUDES 175 FACTORY KICKS
Aside from the Nicky Romero presets, KICK comes bundled with 175 Factory presets in a wide range of styles including Analog / Bass / Drum & Bass / House / Live / Perc / Techno / Trance / Trap
SIGNATURE DISTORTION UNIT
Make use of Nicky's bespoke distortion unit. Tailored to Nicky's preferred tastes it allows control of Distortion Amount, Tone and Mix giving you complete control of the sound.

You can also flip between Post / Pre Click which allows you to bypass the click sample to keep the initial punch intact.
180 CLICK SAMPLES
The click section contains 180 click samples that can be loaded in to provide your kick its own unique sound and if that still isn't enough you can go ahead and load in your own click samples - KICK will save these to your user bank for later use.
EQ
Too much highs? Too little lows? Simply adjust the the built in EQ to do a boost or cut accross the frequency range without ever having to leave the plugin
OVERDRIVE
KICK features a built in a DRIVE control allowing you to add a little extra oomph to your drum.
BUILT IN LIMITER
Don't worry about pushing any of the parameters too hard as KICK comes with a built in LIMITER allowing you to experiment with the controls without ever peaking your meters.
ADVANCED BEZIER CURVES
Easily sculpt your KICK sound using our advanced Bezier curve algorithm to get smooth transitions from point to point.

You can also adjust the length and overall pitch of the sound using the respective controls on the X-Y pad
STAY IN KEY
Use the SNAP and TAG feature to show the HZ and KEY of each node on the X-Y pad. Allowing you to dial in the exact key of your kick drum.
GATE & KEYTRACK
Take total control of how your MIDI input effects the length and pitch of your kick by making use of the GATE and KEYTRACK features.
32/64 BIT AU & VST
KICK is available in 32 & 64 Bit in both Audio Unit and VST.
*Note Exchange rates may very
WALKTHROUGH VIDEO
Phil & Chris get into the studio and show you from top to tail, an entire breakdown of our latest plugin - KICK, the Nicky Romero Artist Edition.
System Requirements
Windows
Windows 7 , Windows XP, Windows Vista (32 Bit)
Intel Core Duo or AMD Athlon 64 X2, 512 MB RAM
Mac Osx
Mac OS X 10.6 or later (32/64 Bit), Intel Core Duo, 512 MB RAM (No PPC)
ANA comes in 2 formats
Windows
- VST 32/64 Bit
Mac OSX
- VST & AU 32/64 Bit
Future Music Magazine
10/10 + Platinum Award Winning

There are plenty of bass drum sample libraries available, but not many offer the power and simplicity of Sonic Academy's Kick. At this price, and with so much flexibility, KICK is a real gem.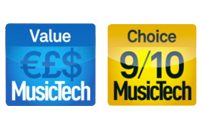 Music Tech Mag
9/10, Value Award & Editors Choice

A great-value kick drum plug-in that's well designed and highly versatile, with simple controls that let you fine-tune the perfect drum sounds for your tracks
Computer Music Magazine
4/5

An excellent tool for building kicks
Benno de Goeij
Definitely a plugin that will get a fixed place in the setup!
Sebastian Ingrosso
Awesome! Love the plug in :D
Oliver Twizt
Really fits in my production environment. Its fun, easy in use and most important end results are super punchy and loud! 5/5
DJ Jazzy Jeff
I will NEVER need another Kick Drum as long as I live…If I can't fix my already favorite kick drum with KICK…then i can just Make a New one….Amazing!!!
Don Diablo
Great plug in using it to the fullest!
Madeon
Really cool. Deep functionalities coupled with an ergonomic layout. Especially useful for tonal kicks
David Guetta
This is a total game changer, I love it!
Morgan Page
Kick is the missing plugin I've been looking for. Super punchy and flexible, and much faster than layering samples
Secret Cinema
I love this plug-in! Was looking for the right kick generator for so long, and it finally does everything I want. The basis for all my techno tracks from now on...In fact it's so good... I wish it had my name on it...
Andy Moor
Kick really nails it, easy to use & amazing results. My kick sample library is getting dusty!
Jason Nevins
Great Job on #KICK - Lovin it!
Max Graham
This helps so much
Chocolate Puma
Super useful and really easy to use. This could well become our only source of kick drum sounds. We love it.
Jerome Isma-Ae
There is no faster way to find the right kick for your track
Rafael Frost
This synth really KICKS! The sharpness and clarity of the sounds will just cut through any mix, without even using a compressor - just insane. This may be THE replacement for my entire kick sample library.
Chris Lake
I've been messing with this synth for the past week now and I can already see this is going to be my go to plug in for kick drum creation. Super simple, yet super powerful
Sean Tyas
I was actually blown away by this one. I feel that KICK by Sonic Academy blows the competition away simply by the fact it's so clear and intuitively laid out.

The very first default patch is ALREADY immediately useable with minimal IF ANY tweaks, and the option that you can import your own kick toppers and just really go to town on the exact kick you need for your track
Protoculture
Love this plugin, will definately be making use of this :)
Josh Gabriel
This is great! Nice job! Instantly great results!
Simon Mills - BENT
I may never use anything else again!! So versatile! Works really well with an Ableton Push controller as well!
INSTALLING & ACTIVATING KICK
STEP 1

To download and install KICK, simply browse to your "Downloads" tab located in your "My Account" page.

In here there is a "Synths" tab where you must download your license key and the KICK installer file.


STEP 2

Save both the installer file and your license key to the desktop - make sure to save the license key under the name "KICK.license" - removing any .txt extension
STEP 3

Once the installer zip file has downloaded, extract it to reveal the installation folder
*PC users please use 7Zip to extract www.7zip.com


STEP 4

Open the extracted folder "Sonic Academy KICK - Nicky Romero Edition" and run the relevant PC or MAC installer.


STEP 5

Complete the installation process

Navigate back to the installation folder and run the "Kick License Key Installer"

When requested for your KICK license key select "YES" and navigate to your downloaded license key which you earlier placed on the desktop.


STEP 6

Congratulations, KICK is now installed and activated - You can now access KICK from within your DAW from the Plugins section.

If you are having any issues with the installation please contact [email protected]